Viewing Charts in the Query Explorer
Once you have saved some charts, you can view these charts in the Query Explorer.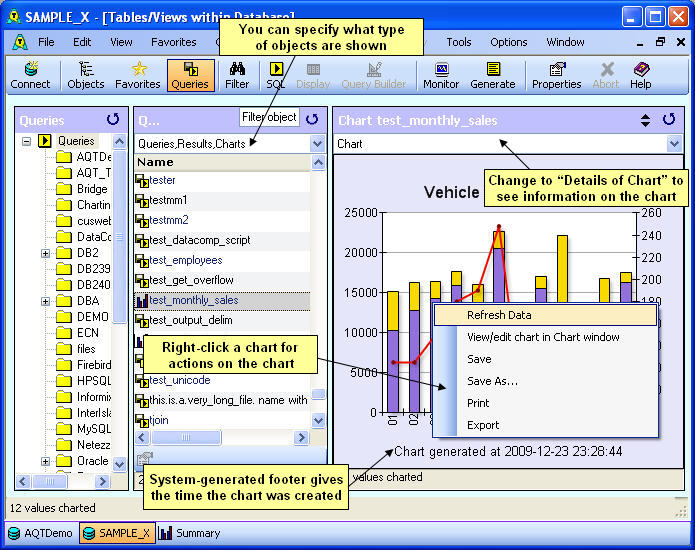 This provides a very simple and quick way of viewing all the charts you have developed.
Note: that you can see the date / time the chart was created in the system-generated footer. You can also see this information by changing the drop-down at the top of the panel to Details of Chart.
Refresh Data
Clicking on Refresh Data will rerun the query to refresh the chart with the current data . Note that you need to be signed onto the database this query runs against before you can do this. You can then click on Save to update the saved-chart with this more recent data.
This provides a powerful mechanism for developing reports, and having the result displayed in graphical format.
Note that, at this stage, the chart query cannot prompt for parameters. We plan to address this limitation in the future.
Refresh Data (against this database)
Normally, Refresh Data runs the chart-query against the database the chart was defined as using. You may wish to run the chart against a different database. Some circumstances in which you may wish to do this are:
you have multiple databases on which similar tables; the chart can run against any of these
you have copied the chart to a different machine; the ODBC Datasource for the database has a different name on this machine
When you click on Refresh Data (against this database), the chart-query will be run against the current database.
If you then right-click the chart and select Save, the chart details will be amended to have the chart database being the current database.
Show Data Values
This will show you the Data Values which are behind the chart.
Deploying Charts to other Users
Once you have developed a chart, you can send them to others users for them to view and run. All the information for a chart is contained in the chart (*.xcf) file. You can send this file to another user; once they have copied it into their AQT query directory, they will be able to see it in their Query Explorer window.
Favorites
You can define a chart file as a Favorite.