We have developed a browser-based query tool called Universal Query Tool (UQT). To access your databases you just need to have a web browser.
UQT is designed for companies which have a large number of non-power users who to need to view the database, run ad-hoc SQL and/or run reports which have been built for them. It doesn't have the full feature-set of AQT - we expect that power users will still use a product such as AQT.
Benfits of UQT:
UQT is installed at a single place - on a Web Server.
database software and connections only need to be set up and configured at one place - on the UQT Server
no software needs to be present on the end user's PC except a web browser
a variety of end-user devices can be used
administrators have high level of control over the access rights of users
has a usage-based licensing model
UQT is a separate product to AQT.
A Demo of UQT is currently available. Please contact us for further details.
Fuller information on UQT is available at www.universalquerytool.com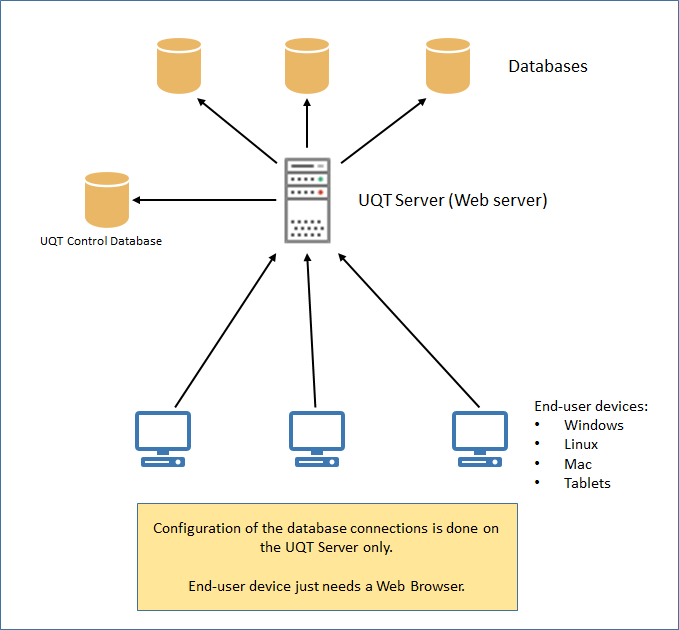 Database page
This shows you the objects in your database
UQT can connect to a large number of different database types
you can connect to multiple databases (in separate browser pages)
the information displayed is similar to that shown by the AQT Database Explorer window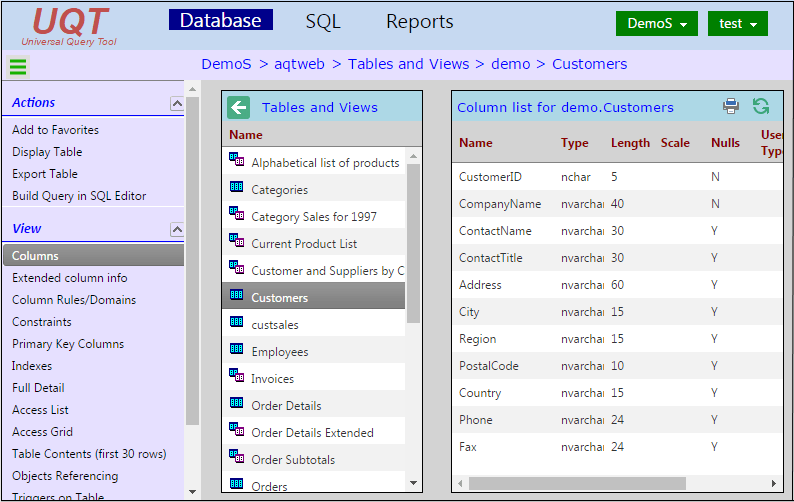 Reports page
With UQT you can develop a set of reports which can be run by end-users.
you can configure a user so they can only run reports; they will not be able see the database structure or run ad-hoc SQL
reports can have parameters the user is prompted-for when the report is run
reports can be linked -so you can display related sets of information
reports can display data as a chart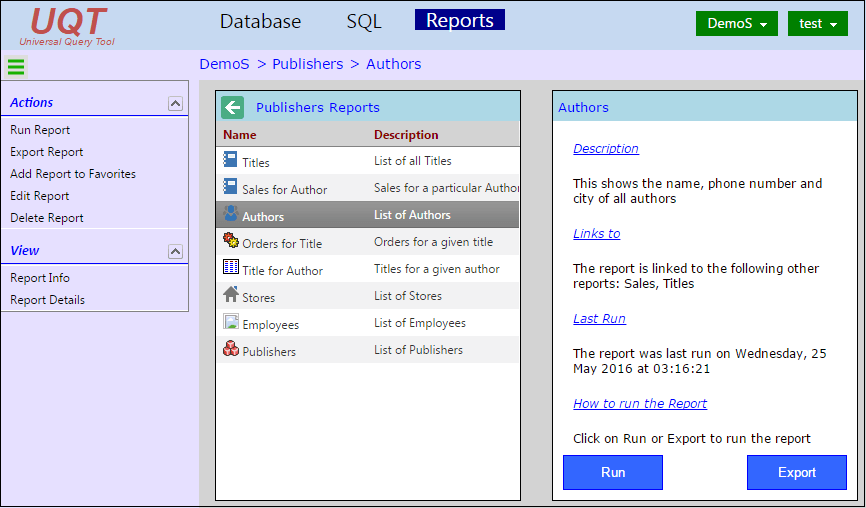 SQL page
This allows you to build and run ad-hoc queries
has syntax highlighting and dropdowns for common keywords, plus column and table names
queries can be saved and opened
queries are held on the UQT server, so are available irrespective of the device you are using
UQT maintains a history of the SQL run
has a number of tools for helping build a query
can run a script of multiple SQL statements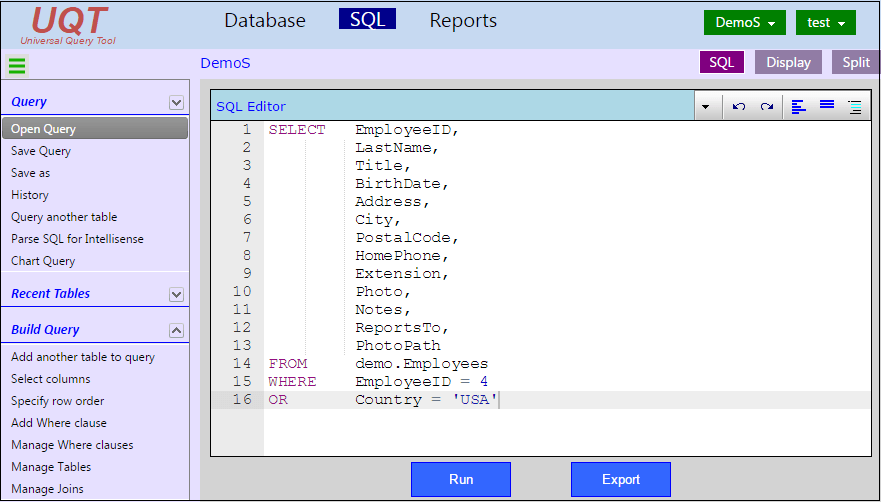 Data Display page
This shows you the result of your query and/or report
use the pager control at the bottom to move through the data
data can be sorted, grouped and filtered
can update / insert / delete rows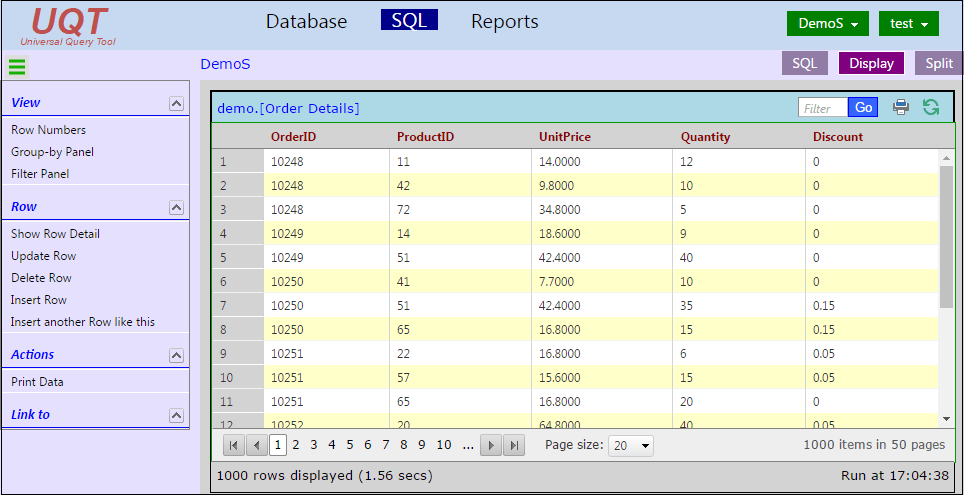 Charting
UQT can create and save Charts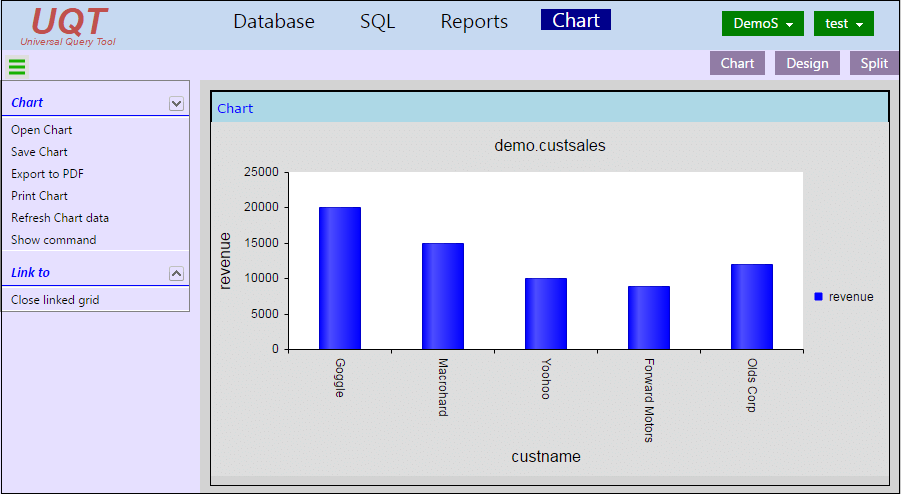 Usage-Based Licensing
UQT has a flexible pricing model, ideal for companies with users who only need occasional access to the databases
charging is based on a fee per-user, per-device, per-day
there is no cost for adding a new user to UQT
users are only charged for the days they use UQT
the same fee applies irrespective of how much a user uses UQT within the day
The fee has not been set , but we expect it to be in the order of USD $0.80 per user per day