Find Text in Table
The Find Text in Table window allows you to search a number of tables (for instance, all the tables in a schema) for a particular piece of text.
You activate this window from the Database Explorer with Table > Find Text in Table.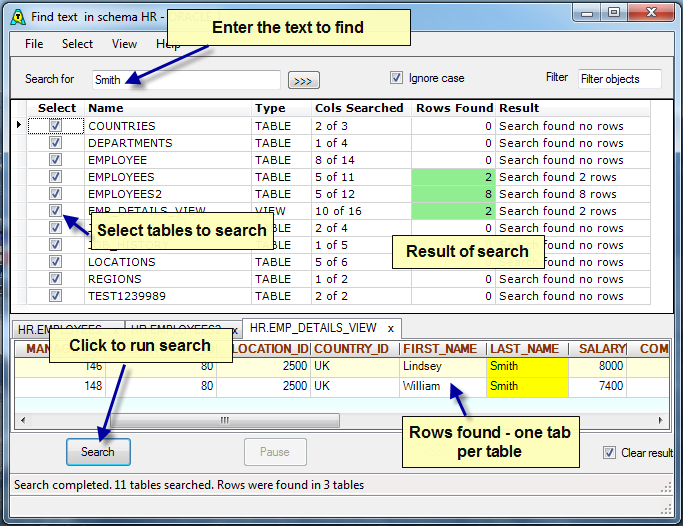 To search for some text:
enter the text you are searching for in the Search for field
select the tables you wish to search. You can use Select > Select All (or Ctrl+A) to select all tables. Filter can also be used to select a particular group of tables.
click on Search to run the search.
While running the search:
click on Abort to cancel the current search
click on Pause to terminate the search after searching the current table
The rows that are found are displayed in the grids at the bottom, with a separate tab/grid for each table. You can right-click a grid to see the options for that grid.
What Columns are Searched?
Find Text in Table will build an SQL statement to search each table. By default, only character columns will be searched. Cols Searched shows you how many columns in the table were searched.
if you click on a table then View > Show Columns Searched you will be able to see which columns in the table have been searched.
if you click on a table then View > Show Search SQL you will be able to see the SQL that AQT has built to perform the search.
This is discussed more in Advanced Search.