Connecting to an MS Access or Excel file
Follow this procedure for connecting to an MS Access database or Exel file when you do not have an ODBC Datasource defined for it.
This is useful for signing onto ad-hoc databases / Excel files you need access to.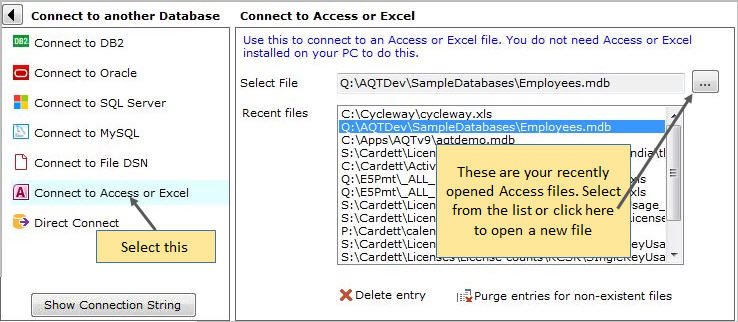 ODBC Drivers
This feature makes use of the MS Access and Excel ODBC Drivers, which are installed on most machines by default. You do not need to have MS Access or Excel installed on your PC to connect to these files with AQT.
The standard ODBC Drivers that come with Windows will only be able to connect to:
(for Access) an *.mdb file
(for Excel) an *.xls file
To connect to more recent file format, such as an *.accdb file and *.xlsx files, you will need to install the latest Microsoft Access Database Engine Redistributable. This can be downloaded from https://www.microsoft.com/en-us/download/details.aspx?id=54920