Lost your registration Key?
Your registration key is important - do not lose it!
We highly recommend keeping your AQT registration key in a secure location. Your only record of this should not be an email, as emails can be lost or purged. It is a good idea to hold it separately from your machine so it is not lost should you have a hard disk failure.
There is no guarantee that your registration key can be retrieved, so make sure you do not lose it.
Still have your old machine?
If you still have your old machine, you can find out the license key from your AQT running on that machine.
Go to an AQT SQL window and enter the command:
--aqt showreg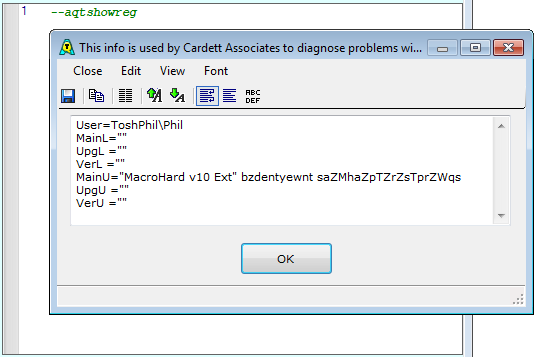 Email us this screenshot (or better still - go View > Copy All and include this info in the email). This will enable us to locate your license key.
The showreg command is only available for AQT v9.0.5 or later.
Don't have your old machine?
For instance, it may have died, or have been wiped before you had a chance to retrieve your registration key.
if you purchased your license through MyCommerce you can find your purchase details from MyCommerce . This will include your registration key. Go to https://account.mycommerce.com/FindMyOrder/GetInfo and fill out the form
contact us. Please give us sufficient information for us to locate your purchase; the name and email address you used for the purchase, and the approximate date of purchase. We cannot guarantee that we will be able to find your purchase in our records.