Signing on to a Database
When you start AQT the Database Signon window will be displayed.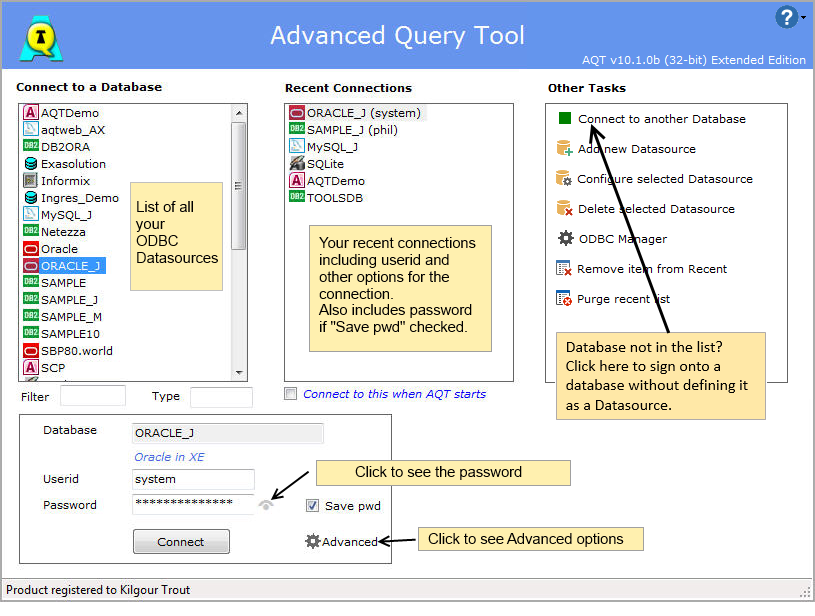 In the left panel, a list of all your ODBC data sources will be displayed.
you will be signed onto your database and the Database Explorer window displayed.
Database not in this list?
There are two reasons why your database may not be in this list:
Setting up a new Datasource
If your database is not in the list of databases, you will need to add it as an ODBC database.
You can do this by clicking on the Add new Datasource button in the Other Tasks panel.
For more details on how to do this. see also Configuring a Database Connection.
Recent Connections
The Recent Connections list shows you the databases you have recently connected to.
The userid and (optionally) the password are remembered as part of this. The userid is shown in brackets after the database name. If you sign onto a database with a number of different userids, you may see more than one entry in this list for the database.
To sign onto a Recent Connection:
The number of entries held in the Recent Connections list is specified in Advanced Options.
Having AQT remember your Userid and Password
AQT saves your userid as part of the information it holds about your Recent signons. It will also hold your password, if the Save pwd option has been checked.
When you select a database from the Recent list, the userid and (if saved) the password will be populated in the Userid and Password boxes.If a database is selected from the Database list, the userid/password will be populated if the database is one which also appears in the Recent list.
Auto Signon when AQT starts
You can specify that AQT auto-connects to a database when it starts. To do this, select a connection from the Recent list and check the Connect to this when AQT starts option.
Signing Onto Multiple Database
You can sign onto multiple databases by selecting multiple entries from either the Database or Recent lists (using Ctrl or Shift).
If your database requires a userid and password, the signon will only be successful if AQT has remembered the userid/password for that database - eg. the database is one that appears in the Recent list plus the Save Pwd option has been checked.
Other Comments