Managing your ODBC Datasources
On the right side of the Sign-on window are a number of buttons for managing your ODBC Datasources.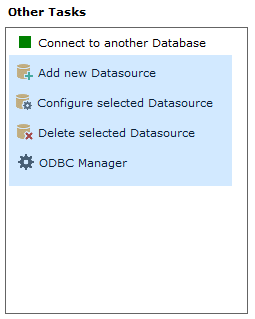 use Add New Datasource to create a new Datasource.
use Configure selected Datasource to change the way a Datasource has been configured
use Delete selected Datasource to delete the Datasource
use ODBC Manager to invoke the Microsoft ODBC Administrator system
These ODBC Admin functions can be hidden with Options > User Rights > Hide ODBC Admin functions on Signon window.
User versus System Datasources
Note that your ODBC Datasources are in two categories:
User Datasources. These can only be used by yourself
System Datasources. These can be used by any user on your PC.
You can only create / configure / delete System Datasources if you have sufficient rights on your PC. Info on these datasources is info is held in the LOCAL_MACHINE part of the registry which, by default, you will not be able to alter.
For more information on configuring your ODBC Datasources, see Configuring a Database Connection.