Saving your Session
Saving your session when you close AQT

To do this you must set Options > Sessions > Save Session on close. The recommended setting is Prompt to Save.
When you do this, you will get the following prompt when you close AQT.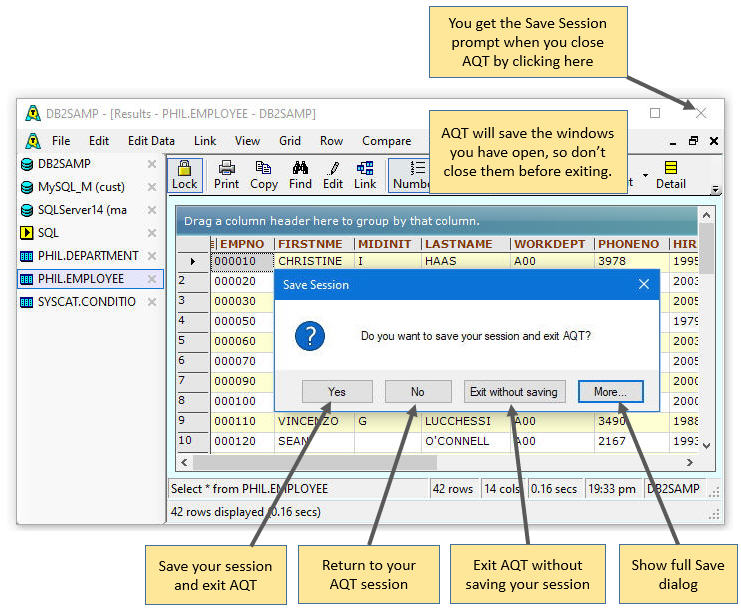 Full Save Dialog
To see the Full Save Dialog, either: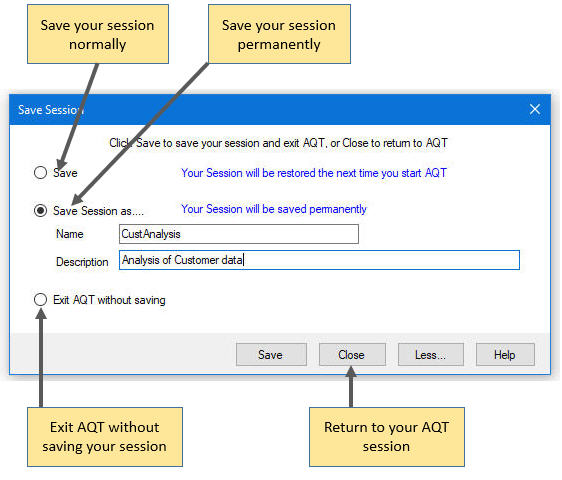 Auto-Saved versus Permanently-Saved Sessions
Manually Saving your Session
You can save your session at any time with (from the Database Explorer window) File > Session > Save Session.
Unless you are saving your session permanently:
any subsequent Save Session will overwrite your saved session
if you close AQT and select Exit AQT without saving, your saved session will be removed
Manually saving your sessions is useful in the following circumstances
you have not selected the option to save your AQT session when AQT exits
you wish to save your current work in case of an AQT crash, machine reboot or other unexpected termination
Automatically Saving your AQT Session
AQT has an option automatiically save your AQT session. This can be activated with Options > Sessions > Automatically Save Session.
When this option is selected, AQT will save the state of your session while AQT is running. Your AQT session will be saved in the case of an unexpected termination of AQT.
This is very resource intensive as AQT will write the state of your session to disk on a continual basis. As a result, this option should only be used in rare circumstances.