Purchasing an AQT license
Please read all the information on this page prior to making a purchase.
This will prevent common mistakes, which can be difficult to sort out.
How to purchase an AQT license
New AQT users: you can purchase an AQT license online through the online retailer Element5. Your purchase is from them not us. Choose between Standard or Extended Edition.
If you do not have an AQT license, don't purchase an Edition Upgrade license or Version Upgrade license - they won't run!
Have a Standard Edition license, want Extended Edition? The Edition upgrade license enables the Extended Edition features.
Element5's Customer Care Centre links to their site to answer questions you may have about the purchasing process, such as
How secure is the order process?
Who should I contact with questions about my order, payment, or delivery?
What exactly will I receive?
When will I receive my product by e-mail?
Can I use a purchase order?
Who should I contact with technical questions about a product? (The answer is, Cardett, at support@querytool.com)
Purchasing Details
The following links to the Element5 store will let you confirm volume pricing before ordering, or read our pricing details first.
if you currently have
and want
you need
Product Number
no AQT license
AQT Standard
Standard Edition license
529103
no AQT license
AQT Extended
Extended Edition license
529101
a Standard license
AQT Extended
Edition Upgrade license
529102
a v4/5/6/7/8/9 license
AQT v10
Version 10 Upgrade license
300068946
Note: all online purchases are handled by the online store run by Element5.
Any questions or issues regarding your purchase should be directed to Element5 (see further down in this page for details).
Please check that you purchase the correct product.
The product can not be exchanged if you purchase the wrong one!
Remember:
if you are currently running a previous AQT version you need a Version 10 Upgrade
if you own an AQT v5 license or an AQT v6/v7/v8/v9 Standard Edition license, and wish to run the Extended Edition, purchase an Edition Upgrade License.
if you do not currently own an AQT license, you have the choice of purchasing either the Standard Edition or the Extended Edition. Do not purchase an Edition Upgrade license or Version 10 Upgrade license - they won't run!
Online purchases
To pay online, go to the Element5 store using the appropriate product link. You can pay by credit card or by cheque (which you then post), or organisations may place a purchase order. Your credit card statement will show Element5, not Cardett, in the payment details.
The Element5 store is well explained. You may wish to read the points below before you go to their site.
Make sure you enter the correct license name (see the next section)
When you make a purchase you will be asked for a billing address. This must be the same as the billing address for the card. If it is not, the purchase will be rejected (this is an additional security check). We don't want your payments to be rejected, so make sure you enter the billing address correctly!
When you purchase online you must take a note of the order reference number (it's best if you print out the page). You will need to know this number if you need to check the status of the order.
Finally, always check your purchase before OK-ing it. Any mistake is easier to correct at this point than after the payment has gone through!
License Name
On the Element5 purchase page, there is a field License to. The license key will be generated in this name. If you are purchasing AQT on behalf of your company or another party, put their name, rather than your own name, in this field.
Make sure you get the license name correct! You will not be able to change it later.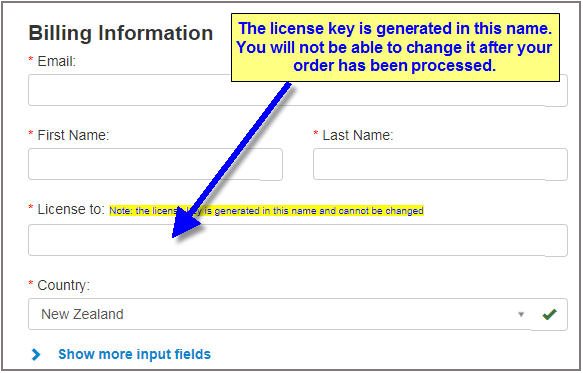 Where is my Element5 order?
Most payments go though very quickly (in a few hours), but sometimes can take up to 24 hours. If you wish to check on the status of an order, contact Element5. You can check on the status of your order at http://www.element5info.com.

OR

If you have not received an email from Element5, perhaps your network security is blocking their email address.

You can email Cardett Associates at sales@querytool.com, but perhaps our reply to you will also be blocked by your network security. So please include a fax number. We must be able to contact you! Phone numbers are not so useful, because satellite-delays confuse phone operators.

If you still think your payment has gone astray, check with your bank to see whether your credit card has been debited. Please do not submit your order a second time! If you do this you will probably end up paying twice. If this happens
you will need to contact your bank to get one of the payments reversed
we then get hit with a $15 reversal fee (on top of the original transaction fees). This makes our financial controller very grumpy! (not a good scene).
VAT for European Union customers
All non-business customers who reside in EU countries with a non-zero VAT rate have had to pay VAT on their online purchases of software.
EU customers who supply a VAT ID are not charged VAT.
EU customers without a VAT ID must pay as described in Online purchases.
Obtaining a Quote from Element5
You can obtain a quote from Element5 by filling out the form at http://ccc.element5.com/ccc/quote.html
This form will ask you for the Product ID - use the Product Number from the table earlier in this page.
Can I use a Purchase Order?
You can place a Purchase Order either on Element5 or on ourselves.
To place a Purchase Order on Element5, follow the instructions at http://ccc.element5.com/ccc/index.html?cccid=[DASID_3722]
If you wish to deal directly with Cardett Associates, the procedure is normally:
you need to get a Purchase Order from your accounts department. Send this to us (email is the best): sales@querytool.com
we will then send you an invoice
once the invoice has been settled in full (by check or wire transfer), we will send you the license keys
EU business-customers must supply a VAT ID
| | | |
| --- | --- | --- |
| | | |
Last reviewed on 24 August 2014
Copyright 2002-2014 Cardett Associates Ltd. All rights reserved.