Purchasing a License
The procedure for purchasing a license is covered on this page. For information on AQT pricing and which license is appropriate for you, see the
pricing
page. You can purchase an AQT license using one of the following links
License Name
The license key will be generated in the name you enter into the field called
License to
on the Element5 purchase page. Enter the name of the organisation that will own the license you are buying. Do not use your own name unless you are making a private purchase. Make sure you get the license name correct! You will not be able to change it later.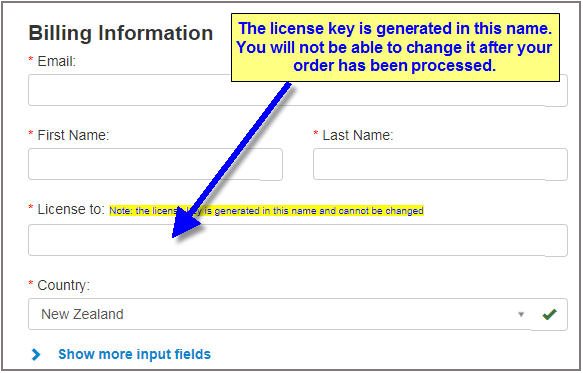 Where is my Element5 order?
Most payments go though very quickly (in a few hours), but sometimes can take up to 24 hours. If you wish to check on the status of an order, contact Element5. You can check on the status of your order at http://www.element5info.com.
If you have not received an email from Element5, contact us at sales@
db
querytool.com and we can check on the status of the order. Do not submit another order unless this is the advice we give you. A duplicate order cannot be cancelled without incurring a cancellation fee, which we will expect you to pay.
Obtaining a Quote from Element5
You can obtain a quote from Element5 by filling out the form at
http://ccc.element5.com/ccc/quote.html
This form will ask you for the Product ID - use the Product Number from the table on the pricing page.
Using a Purchase Order
You can place a Purchase Order either on Element5 or on ourselves. To place a Purchase Order on Element5, follow the instructions at
http://ccc.element5.com/ccc/index.html?cccid=[DASID_3722]
If you wish to deal directly with Cardett Associates, the procedure is normally:
you need to get a Purchase Order from your accounts department.
send this to us at sales@

db

querytool.com
we will then send you an invoice
once the invoice has been settled in full (by check or wire transfer), we will send you the license keys
EU business-customers must supply a VAT ID.